Media
Articles, Features, and Interviews in the Press

Telegraph Journal Interview
The Telegraph Journal is full service newspaper serving New Brunswick.
Topic
Spinzo (how it works, GrowthWorks Investment) and personal background
Photo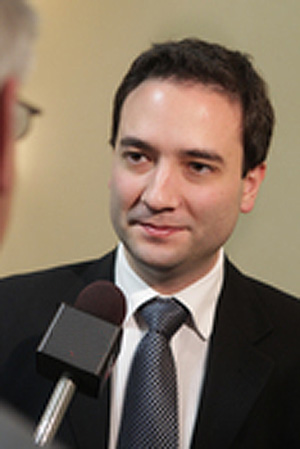 Article
Codi Wilson
Telegraph-Journal

Local entrepreneur Emmanuel Elmajian is bringing an innovative alternative to group-buying sites like Groupon and WagJag with the launch of his new deal-of–the-day website, Spinzo.

Spinzo, which received $400,000 from GrowthWorks Atlantic on Tuesday, offers a new take on popular group-buying promotions by using a different business model with dynamic pricing.

"What is very interesting about Spinzo versus general e-commerce promotions is we have dynamic pricing, which is not really done anywhere. (With Spinzo) the price depends on how many people agree to purchase it," said Elmajian, CEO of Spinzo.

"For merchants, it's extremely viral. It permits their buyers to share the deal with friends and they are much more likely to share the deal if they are going to get a better deal."

Elmajian uses the example of Harbour Station and a Sea Dogs game. If Harbour Station, on average, fills 2,500 seats each game, but the venue has a 6,000-seat capacity, they could work with Spinzo to sell seats based on price-points.

"They can actually price each seat dynamically such that they say, 'if we sell 2,500, it will be this price. But if we can sell 4,000, it would be a lower price,' " Elmajian said.

"It's more merchant-friendly because they are easing themselves into the promotion."

Elmajian said he is more understanding of merchant needs, having grown up watching his parents run their restaurant chain, Mother Nature's, in Saint John. As a result, his business model is geared toward merchants.

"I grew up in this small-business atmosphere. and now, as the Internet and e-commerce and social media come to the forefront of everyday activities, I see companies like Groupon attempting to address the merchant space. But I saw quite a major void there, looking at it from the merchant perspective," Elmajian said.

He said Groupon, for instance, requires businesses to offer a 50 per cent discount on their product and, on top of that, Groupon takes 50 per cent of the proceeds from the deal. As a result, many businesses don't want to participate, because they end up having to offer their product at a 75-per-cent discount.

"If you think about that from a restaurant's perspective, that's a terrible deal. I mean, sure you might get some new customers in the door, but at a major loss," he said.

To help encourage more merchants to get on board, Elmajian said he doesn't require a 50-per-cent discount on products and plans to keep the commission down to 15 or 20 per cent.

"We are coming here to create a sustainable way to promote your business," Elmajian said.

"We can do perpetual deals with them. You can say every week we are going to do a Spinzo price night or every month. That could become your new way to price tickets. We want repeat business."

The 27-year-old studied engineering and systems design at the University of Waterloo and worked in New York City as an IT business analyst at Mackenzie and Company before moving back to Saint John to start the company.

"That's why I started, I saw so many companies failing to address this market and it's really a shame because small businesses are dying for a way to promote themselves online," he said.

The site will first launch in Toronto and Saint John and trials will begin in March and April with businesses around the University of Toronto with more student-centric deals.

Elmajian's operation is still very small, with only virtual offices and a handful of staff.

"I think dealing with competition is going to be a tough challenge. Local e-commerce is becoming a very crowded space. I think we have a compelling alternative, but it is still a challenge. I think we need to be very clear with our messaging and get our word out there above all the rest."